For cryptocurrency traders and enthusiasts, keeping up with the price of crypto is highly important. Cryptocurrency investment is all about buying and selling at the right time. These apps will help you keep up with Bitcoin, Ethereum, Litecoin and other altcoin prices. If you want to buy and sell Bitcoin in Nigeria we recommend these apps.
Bitcoin Price IQ
Bitcoin Price IQ was initially designed to track Bitcoin prices but soon began supporting over 200 cryptocurrencies. More importantly, it supports conversion to about 165 fiat currencies. The chances that you'll get prices based on your local government-issued currency is high. Bitcoin Price IQ allows users create a watchlist of their crypto investments and set alerts via notifications.
Asides checking prices of crypto, the app allows you read cryptocurrency news and tweets from top sites and influencers. It's designed to use as little data as possible so you don't have to worry about this app hogging your megabytes.
Blockfolio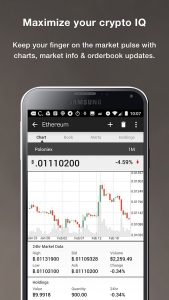 Blockfolio describes itself as the "most complete cryptocurrency management application". It features a portfolio overview so you can quickly check how your crypto investments are doing. It also supports a whopping 2000 cryptocurrencies worldwide as well as 30 exchanges. It's a little low on the fiat end however with support for only 30 fiat currencies.
ALSO READ: How to Invest in Bitcoin in Nigeria
Delta
Delta is one of the most beautifully designed cryptocurrency tracking apps. It's so well designed, it was showcased on Google Play's best apps of the year. Delta features a simple interface to track crypto prices as a portfolio. You can include your buy and sell transactions from several exchanges around the world to keep up with profits and trades.
Cryptocurrency
Cryptocurrency by Cryptolab is another great tool for cryptocurrency traders. It allows users track prices of over 1000 cryptocurrencies and cross-pricing with each other. So you can track Ripple's price in Bitcoins and vice versa. The best feature of this app is its widget feature. This allows you add widgets to your phone's home screen so you can easily view prices without opening the app.
Coinmarketapp
Coinmarketapp pulls data from Coinmarketcap – a popular cryptocurrency price tracking site. It includes price info for cryptocurrencies across multiple exchanges as well as lists of top performing crypto in different time ranges. You can also keep up with news in the crypto world as it aggregates them in an easy-to-read format.
ALSO READ: Best Bitcoin Exchange in Nigeria
Investing.com's Cryptocurrency App
Cryptocurrency investing has become so popular, Investing.com just had to create an app for it. Investing's app boasts of market data for all cryptocurrencies with real-time prices and alerts. It also includes a simple cryptocurrency converter if you're purchasing across currencies. For better investment decisions, the app has a section delivering analysis from all over the world.
These apps make it easier to track your crypto investments, prospective buys and price differences across multiple exchanges and fiat currencies. They come in handy if you're looking to diversify your portfolio or if you're just keen on keeping up with market trends.
ALSO READ: How to Buy Bitcoin in Nigeria.